LANGUAGE ARTS WITH
MRS. COUNTS






Nathan Hale Middle School - REVOLUTION HOUSE



Welcome to my class. You will be embarking on an unbelievable experience during your final year at NHMS as an 8th grade student in Revolution House. I will be honest with you, it will not be easy. You will work hard, review, and learn many new material and concepts that will help prepare you to be successful in high school. If you adhere to my "Tips to Success," you will have a wonderful and rewarding year!
Tonight's Homework

WEDNESDAY, FEBRUARY 13, 2019 - MONDAY, FEBRUARY 18, 2019
***WINTER BREAK***

Reread the poem "We Real Cool" by Gwendolyn Brooks.
Complete the poem prewriting sheet in its entirety. (ALL PARTS - literary devices, vivid detailed image, two senses connection, research and detail for life, nature, or people (U.S. example) AND world, economy, or society (global example), prior knowledge, and personal connection to your life).
Complete your class rough draft in its entirety in order to participate in Tuesday's in-class peer editing session.
Read for 20 minutes each day, write your reflection, and complete your word recognition page in its entirety. Make sure you follow the instructions to all parts of the reading log. READING LOGS WILL BE COLLECTED ON TUESDAY, FEBRUARY 19.
Bring your independent reading book to class EVERYDAY!!!!

ALL OF THE ABOVE DOCUMENTS CAN BE LOCATED IN GOOGLE CLASSROOM

​​

Long Term Assignments​

Poem Reaction #4 - We Real Cool (Brooks)
Final TYPED Copy Due: Wednesday, February 20

HOUSE NEWS

​Boston 2019
May 29, May 30, May 31




---
Powered by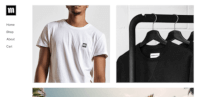 Create your own unique website with customizable templates.